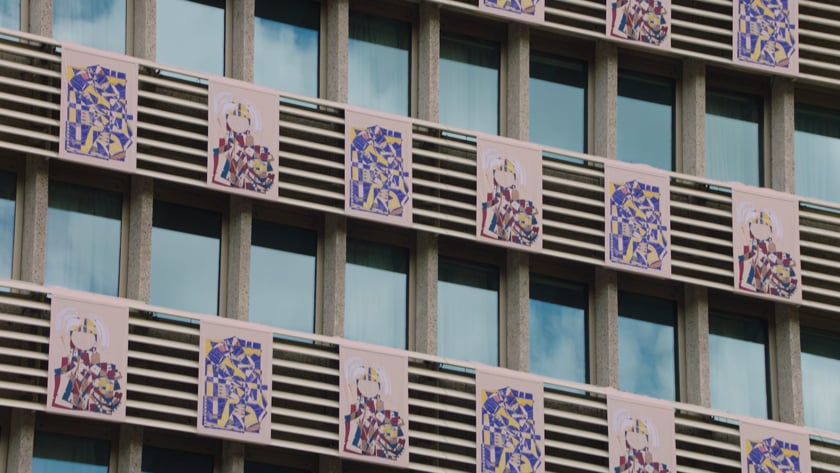 45 Park Lane
KING and CROWN
28th April – 22nd June 2023
45 Park Lane, part of Dorchester Collection, will be unveiling two commissioned artworks by Hormazd Narielwalla to celebrate the coronation of His Majesty King Charles III. Named 'King and Crown', the exhibition will launch on April 28, 2023, and will run until June 22, 2023. Born in India and trained as an artist in London, Narielwalla has created two distinctive pieces for the celebration that will be added to the hotel's established art collection.
These commissioned artworks consist of 'The Pattern King' and 'The Crown' which exemplify and depict kingship in the contemporary age, which will be combined into one collage and reproduced into 70 large-scale flags placed around the exterior of the hotel. On his inspiration and creative process, Hormazd says; "the two collages made for 45 Park Lane accompanied with a suite of works for the exhibition made on tailoring patterns bring to mind medieval manuscripts and maps. Their language is codified yet they convey a powerful sense of materiality and time. Each work references the investiture, refracted through a modernist grid of lines, points and planes deconstructing the ceremonial objects of the regalia – the crown, the sceptre, the orb, and the robes – to re-present their meanings to us."
'The Pattern King' is an abstract portrait of HM The King, which showcases Narielwalla's fascination with the transformative power of clothes, using templates of tailoring and sewing patterns as the basis for collages and drawings since 2008, when he first began creating his art. The art piece will be an abstract portrait of HM The King on the day of his Coronation with depictions of a sceptre, crown and orb as key symbols of the royal investiture. 'The Crown' will be divided into hand-painted purple and gold paper which represents both the colour of royalty and that of the hotel. There is an ermine motif that represents the brim of the Crown and links back to 'The Pattern King'.
Curated by Lily Ackerman of Ackerman Studios, this exhibition and installation forms part of a wider series of exhibitions at 45 Park Lane. To view the show visit Ackerman Studios.